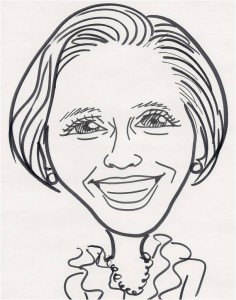 Cartoon made by Tadao
Welcome to the BLOG VER COM PALAVRAS (SEEING WITH WORDS)!!!
I'm Lívia Motta, from Minas Gerais, someone who is very fond of sweets, the daughter of a poet father and just like him I´m in love with words. Who would imagine that now I see with words!!! That´s what audio description means: seeing with words.
My involvement and, why not to say, passion for audio description started in 2005. At that time I was helping a friend, Jucilene, in a college project, in which she was supposed to watch a movie. As she is blind she asked me to watch the movie with her and that´s how everything started. A little bit later, my niece Isabela and I prepared a project for Vivo Institute about cultural accessibility and I immediately identified myself with this kind of activity. I started to research, to study, to look for more and more information and finally I began to prepare movies with audio description. At first it was only for some blind friends who used to go to my house, Roger, Jucilene and Roseli. Later, I started to show some movies in institutions. CADEVI, a support center for blind people, was the place where I first showed a movie with audio description to my friends Paulo Romeu, Laércio Santana and Lothar Bazzanella. These are the people I call The Audio Description Shock Squadas they watch, evaluate and collaborate to reconstruct practice. Another place I used to show movies with audio description was LARAMARA, a Brazilian association for assistance to blind people. I've worked at LARAMARA as a volunteer English teacher. Many films were shown there since then. Making scripts, presenting and listening to the impressions on the use of the audio description tool, all of this has been a factor to expand and deepen theory and practice.
What I've learnt I have shared in training courses. The first audio description training course at VIVO, coordinated by Eduardo Valente, who, like me, was very enthusiastic about this tool, prepared audio describers who are still at Teatro Vivo, forming a very demanding and committed team together with professionals that came from other courses.
Vivo Company, through their cultural program called VIVO ENCENA, has certainly contributed to the expansion of the tool in Brazil. Since the presentation of the play Santo e a Porca, by Ariano Sussuana, in 2006, many plays, movies, documentaries and operas were shown in the most different corners in Brazil and many visually impaired people could expand their cultural horizons by watching these shows.
The more I watch shows, visit museums, surf the internet and read newspapers and magazines, the more I think on how important the access to the world of images is. I think on how much the reading of static or dynamic images can contribute to enlarge the comprehension of what is watched or the site visited or the text read. There are countless possibilities for the implementation of audio description as well as the opportunities of learning that audio description may bring, enriching the cultural life, broadening horizons and opening windows.
Thinking about all these questions on cultural and communicative accessibility and also on the employment of audio description I decided, with a little push from my friend Paulo Romeu, to create this blog. At first, it seemed to be so simple… And then many questions came up, so many novelties and necessities: the domain register, the site idealization and identity, the content to be organized, the knowledge of other tools such as twitter, Facebook, YouTube. From a simple blog it was intended to be, it became a longstanding and complicated thing…Months went on…Finally the so awaited moment came.
The site is ready!!! The eternal under construction blog!!!
I wish it can be, therefore, a place to discuss and comment the different applicabilities of audio description, a place to post news, promote events. A place where one can show how it is to see with words. I wish this site can contribute to the consolidation of audio description as a cultural, educational and social inclusion resource!!!I also wish it can be a place I can register my attempts to be a poet, to let the imagination fly and run wild…
Being an audio describer is to have the chance of playing with words,
Sort them out, change, match,
And choose the ones that best express this or that,
The ones that best fit here and there…
And it becomes a habit;it blossoms as a flower in the garden…
Audio description and poetry…
Would it be possible to find a rhyme?
(Written by Lívia Motta – feb 2011) Translated by Maristela Guimarães and Marcia Cabrera